The perfect Caribbean island…
Bequia has a unique, magical charm which is hard to find anywhere else in the Caribbean. Lying just nine miles to the south of St.Vincent, it is the largest of the Grenadine islands – a compact seven square miles it has around 5,000 warm and friendly inhabitants. The place is relaxed and easy-going and fulfils many dreams of the perfect small Caribbean island. Beautiful white sand beaches, spectacular scuba diving and snorkeling around the rocks with unspoiled coral and brightly coloured fish. Go out with a local fisherman and catch your own fish, explore deserted and remote beaches or follow hiking trails on lush green hillsides.
Port Elizabeth, the harbour town, is just 5 minutes drive from Rocky Bay. During the main holiday season from December to May, hundreds of yachts anchor in Admiralty Bay, one of the best and most picturesque anchorages in the entire Caribbean. It attracts yachtsmen from all over the globe to its protected waters and to enjoy the inviting, lively bars and restaurants that stretch along the shoreline walkway. The town itself is home to stores selling a surprising variety of local and international food, a vegetable market full of local character and fresh fish is sold on the dock. St Vincent is just 60 minutes away by ferry for items not readily available on Bequia.
A choice of nightlife awaits you on the island – gourmet international cuisine, or delicious local cooking; elegant cocktails or sundowners in a local bar; a lively 'jump up' to steel band music or a romantic candlelit dinner under the warm tropical night and star-studded sky.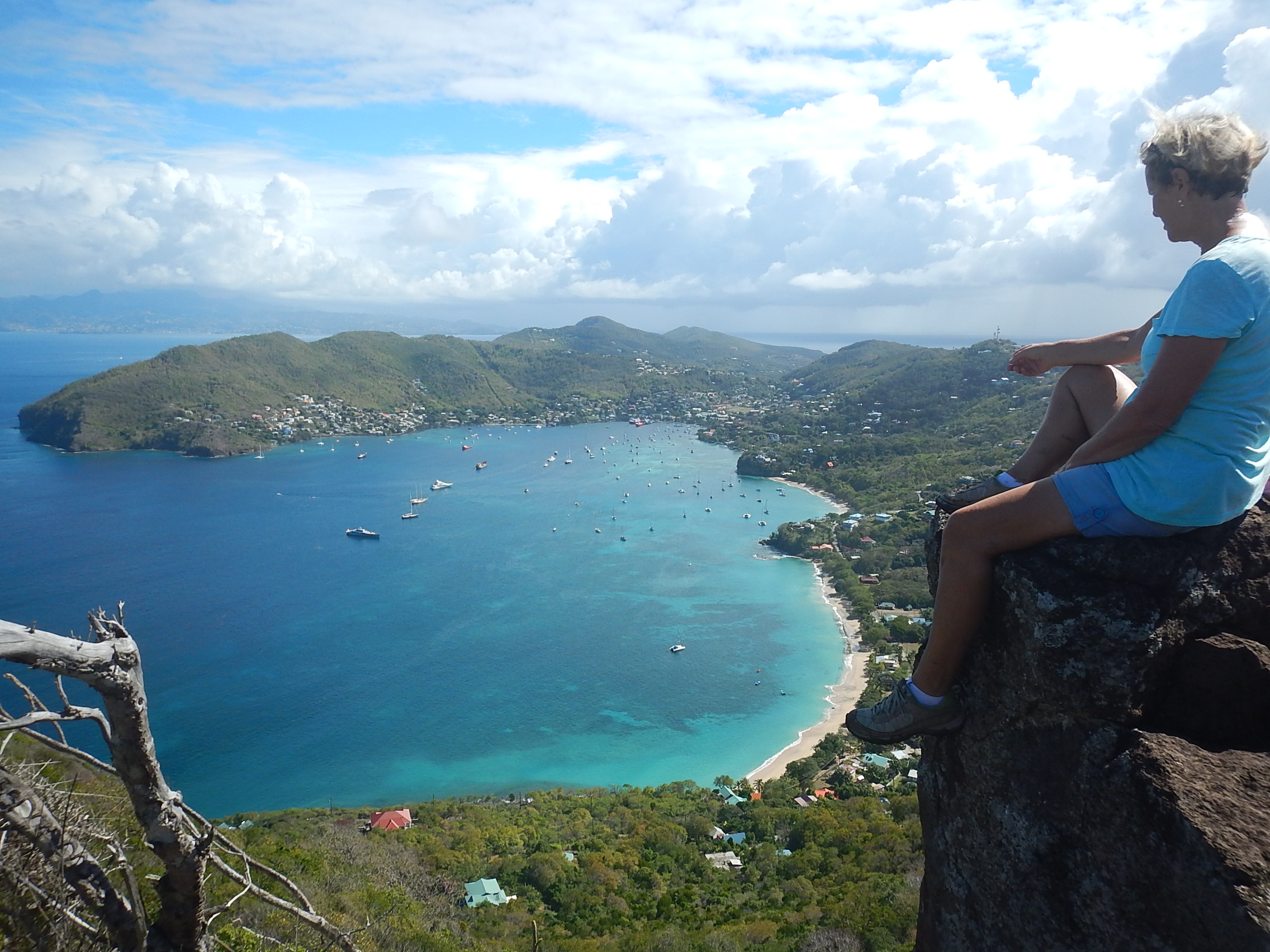 Annual Events
At the end of January, Bequia is host to the Mount Gay Music Festival, a four day event that appeals to music lovers of all ages. It has earned rave reviews for the past nine years and features a blend of great performances in a range of musical genres from steel pan to jazz and from rock to reggae.
The Bequia Easter Regatta is a four day, fun-filled event renowned the world over for its unique blend of local 'double-ender' boat racing, exciting yacht racing and warm, small island hospitality. This is the largest yacht regatta in the southern Caribbean with vessels of all types and sizes competing in the two series of races during the regatta weekend.
What about the weather?
Daytime temperatures consistently average between 26C (79F) and 30C (86F) throughout the year. A "chilly" evening in the winter months (January to March) might see a low of around 21C (70F).
Tradewinds bring cooling breezes for most of the year; the famous Christmas Winds bring stiffer steady breezes, lively seas and perfect sailing weather.
Day to day life
Bequia Island is smaller than most Caribbean islands and consequently has much more of a community atmosphere where everyone is friendly. There is a big expat community here too which is mainly made up of people from the UK and Canada, but also from USA, Germany and France. There are many bars and restaurants and you can almost guarantee seeing someone you know in most of them! Night life here is as you would expect it in the Caribbean to be – a hive of music, culture, beach barbeques and a dash of rum punch. During high season, there is a very busy social buzz amongst the local residents and the villa owners who frequent the islands during those months. During mid-season, there is a visible change which is lovely as it gets quieter but there is still good social life. When it's low season, it is very quiet as most permanent residents return to their native country for a holiday. In addition to this there are some big events that take place across the year that simply cannot be missed.
Most visitors to the island are pleasantly surprised at how great and varied the food is in Bequia! Almost any food you could dream of is available here, as well as a vast array of unusual and unique tastes and textures that are sure to blow your taste buds away! Bequia hotels such as The Liming, Bequia Plantation hotel and Bequia Beach hotel have restaurants with a wonderful selection of menus.
If you'd like to explore further afield then the walking and hiking is good here as there are many trails leading to remote beaches, alongside mountain walks with stunning views. Just a little further out, via a one-hour ferry trip, St Vincent also offers a massive selection of trails and hikes. Soufriere Volcano is a particularly stunning hike as are the Vermont Nature trail, Dark View Falls and Montreal Gardens. There's no need to do it in one go as there are some picturesque lodges for overnight stays. Just a two-and-a-half-hour ferry trip away you will find Union Island. There are even more trails to remote beaches and boat trips to the famous Tobago cays and Mayreau island. This is another lovely little place you can spend a few days in some local accommodation.
Bequia has a very special appeal and when you're here, it's easy to see why.